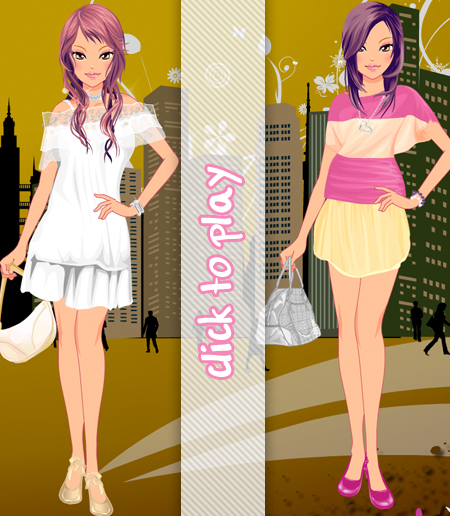 This city girl surely knows how to draw all the attention on her original outfits whenever she hits the streets. If you'd like to be the center of attention and dazzle with your unique, stylish look, learn some of this fashionista's tips playing the urban princess dress up game!
She loves super fancy clothes and feminine cute clothes and sophisticated-elegant clothes, in one word this girl is the ultimate example of a super stylish contemporary princess. You have your round shaped category tabs on the left side of the page, when you play the urban princess dress up game, just give them some clicks and check out this city girl's wardrobe. There are pretty ruffle mini dresses for your stylish doll here and elegant, snow-white full skirts, even cute ruffle miniskirts to combine with chic blouses. Her candy-like colored clothing items can be styled up, when you dress up this urban princess, with stylish designer bags bags and refined glittering bracelets, sophisticated beaded necklaces, in one word playing the urban princess dress up game you're going to learn how to add a little bit of urban coolness and royal elegance and combine them into a super posh-chic kind of outfit, just perfect for a city fashionista. How about a fancy pair of shoes now?
Let's turn back the hands of time and start rummaging through a retro type of city princess!